The Securing Growth and Robust Leadership in American Aviation Act
America's aviation system carries hundreds of millions of passengers safely to their destinations each year. Not only do people rely on air travel, but our economy does too—strengthening our supply chains, supporting U.S. jobs and driving economic growth.
The bipartisan Securing Growth and Robust Leadership in American Aviation Act will reauthorize the Federal Aviation Administration (FAA) for five years, protect the safety of the flying public, and secure the future of the national aviation system.
This bill provides a framework to maintain America's leadership in aviation safety and aerospace innovation, strengthens and diversifies our aviation workforce, improves consumer protections and accessibility, and makes groundbreaking investments in sustainability and resiliency.
Maintaining America's Gold Standard in Safety
America's aviation system is the safest in the world, but keeping our skies safe requires constant vigilance. The bill requires key safety improvements from expanding ground surveillance at airports to help prevent runway incursions, to updating evacuation standards for commercial planes.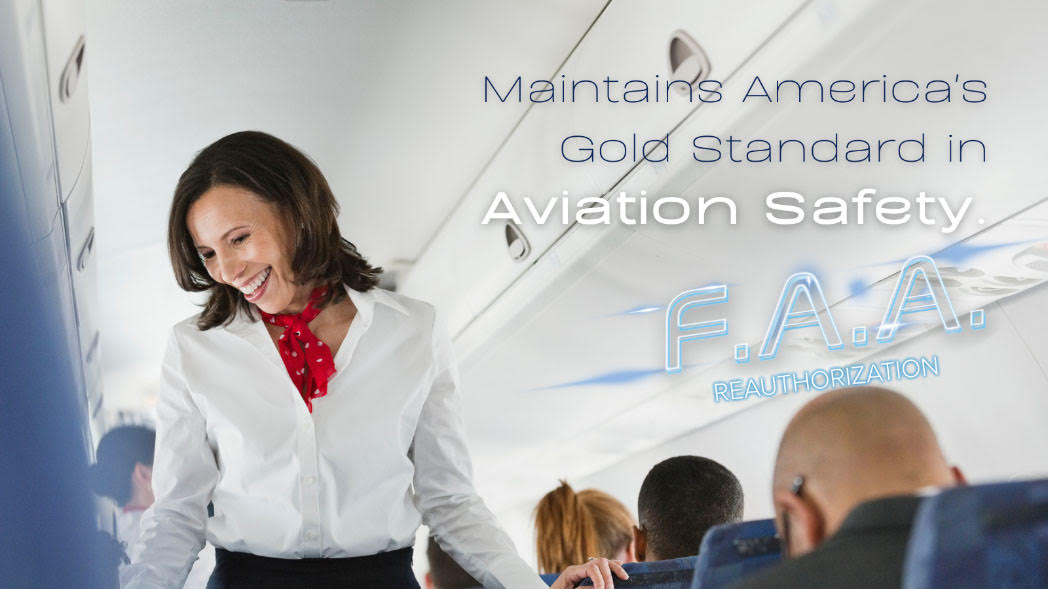 Specifically, the bill:
Prevents runway incursions by expanding ground surveillance and detection equipment at large and medium hub airports to better inform air traffic controllers of potential danger;
Ensures that foreign aircraft repair stations are subject to the same standards as American repair stations;
Holds organization designation authority (ODA) unit members accountable by requiring ethics training;
Reviews and updates passenger air carriers' emergency medical kits to ensure they include overdose reversal medications, Epi-pens, updated defibrillators and more, and reassess evacuation standards for commercial planes; and
Requires the FAA to finalize a proposed rule on secondary barriers and convene an FAA task force to develop recommendations to help prevent assaults against airline personnel.
Fostering Innovation
To preserve America's competitive edge in aviation and deliver for the American people, new airspace entrants, like unmanned aircraft system (or drones) and advanced air mobility aircraft (such as electric air taxis) must be safely integrated into our skies. This bill will create the regulatory environment to do just that.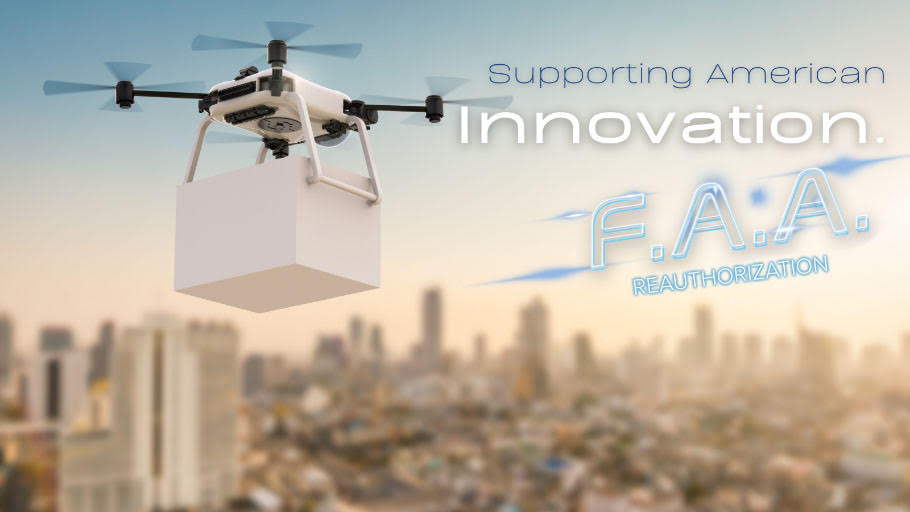 Specifically, the bill:
Requires the FAA to establish regulations that would allow certain UAS to safely operate beyond visual line of sight—providing regulatory certainty to this growing sector;
Directs the FAA to coordinate with the U.S. Forest Service to develop a plan to use drones for wildfire detection, mitigation and suppression efforts, and adds an FAA liaison to the National Interagency Fire Center;
Requires the FAA to finalize a rulemaking to allow for the safe operations of powered-lift aircraft in the national airspace by the beginning of 2025;
Funds grants for state and local governments to plan for the deployment of advanced air mobility (AAM) operations in communities;
Provides funding for state, local and Tribal governments to use drones to visually inspect, repair and maintain critical infrastructure, and invests in the training of the workforce to use these advanced technologies; and
Ensures that the important voices of local communities and current airspace users are respected as new entrants emerge in U.S. skies.
Strengthening and Diversifying the U.S. Aviation Workforce
Creating good-paying and rewarding U.S. jobs in the aviation sector is another top priority in this bill. It will triple funding for the FAA's aviation workforce development program to $45 million each fiscal year, and strengthen and diversify our talent pipeline for pilots, maintenance technicians, aviation manufacturing workers and other critical roles.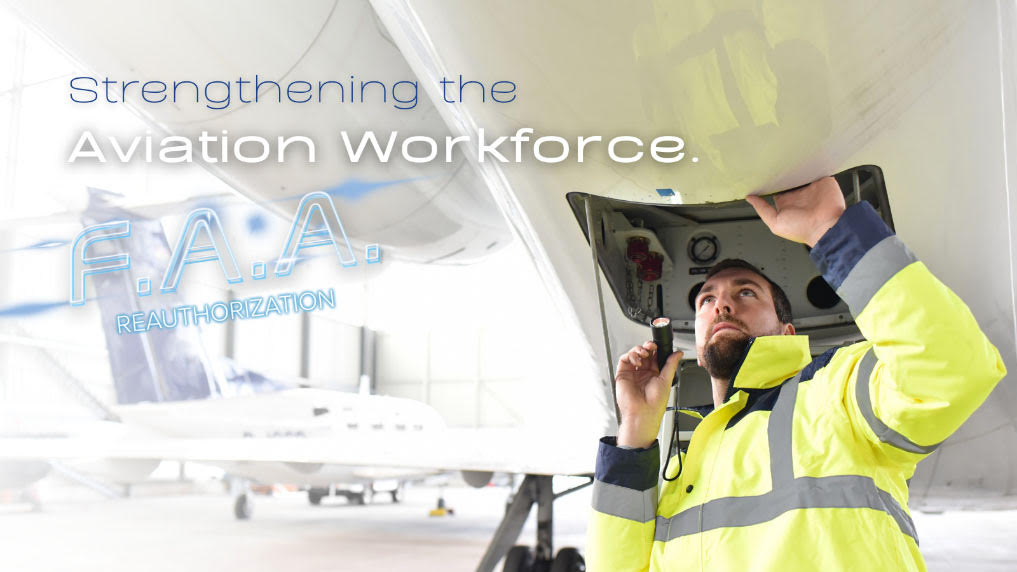 Specifically, the bill:
Triples authorized funding for the FAA's aviation workforce program (Sec. 626 Aviation Development Workforce Grants) to $45 million each fiscal year and expands eligibility, which will strengthen our talent pipeline of pilots, maintenance technicians, and aviation manufacturing workers;
Sets aside 20 percent of these total funds for the Willa Brown Aviation Education Program to recruit, train and retain people from underrepresented communities in the industry;
Creates the National Center for the Advancement of Aerospace, an independent, federally-chartered non-profit entity to serve as a central hub for resources on aviation education and employment opportunities;
Establishes the Bessie Coleman Women in Aviation Advisory Committee to advise on the recruitment, retention, employment, education, training, well-being and treatment of women in U.S. aviation.
Directs FAA to hire more air traffic controllers and directs the Transportation Research Board to identify the appropriate staffing model to prepare for future air traffic control needs; and
Allows DOT to provide technical assistance and training to Disadvantaged Business Enterprises to help them compete for projects.
Expanding Consumer Protections and Accessibility
This bill will preserve air travel as a reliable mode of transportation for all travelers. We've seen a race to the bottom in recent years regarding how airlines sometimes treat and value passengers. This bill will protect consumer rights and improve accessibility.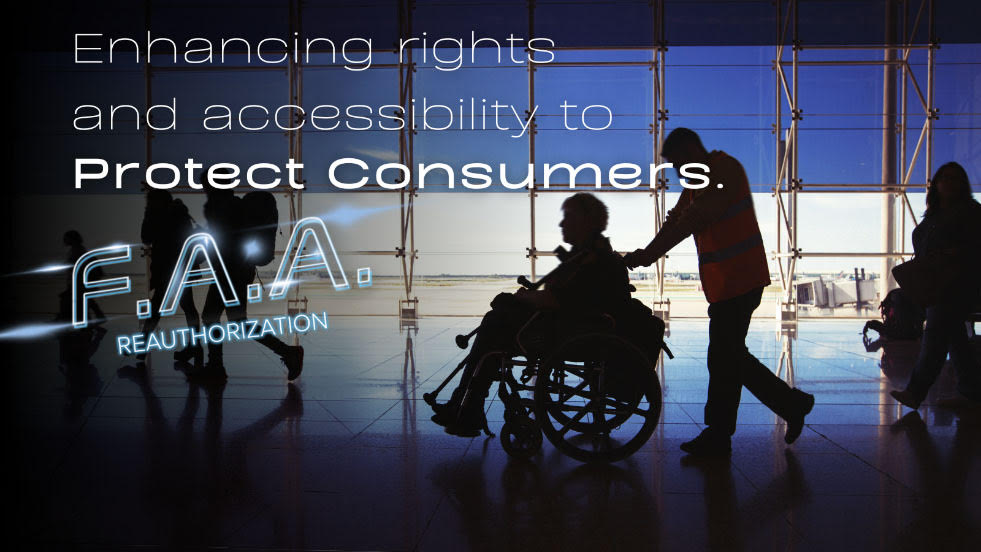 Specifically, the bill:
Directs DOT to require airlines to develop policies addressing reimbursement for passengers for hotel and meal costs when a flight is cancelled or significantly delayed;
Requires airlines to develop airline operation resiliency plans to help prevent and limit the impact of mass flight disruptions;
Requires airlines to establish policies on allowing passengers to sit next to their young child if adjacent seats are available;
Directs DOT to create a roadmap for airlines to reduce damage to wheelchairs and mobility aids and better accommodate passengers in wheelchairs onboard aircraft;  
Requires airlines to provide a refund to passengers with disabilities who purchase a ticket but cannot travel because their wheelchair cannot physically be accommodated in the cargo hold of the aircraft; and
Authorizes the FAA to lead research to improve aircraft accessibility and requires DOT to provide Congress with more detailed information on disability-related complaints and recommendations to address safety challenges for these passengers.
Investing in Resilient and Sustainable Infrastructure
This bill makes groundbreaking investments in sustainability that will expedite the green energy transition, allowing U.S. airports to use Airport Improvement Program (AIP) funding for hydrogen and unleaded fuel infrastructure.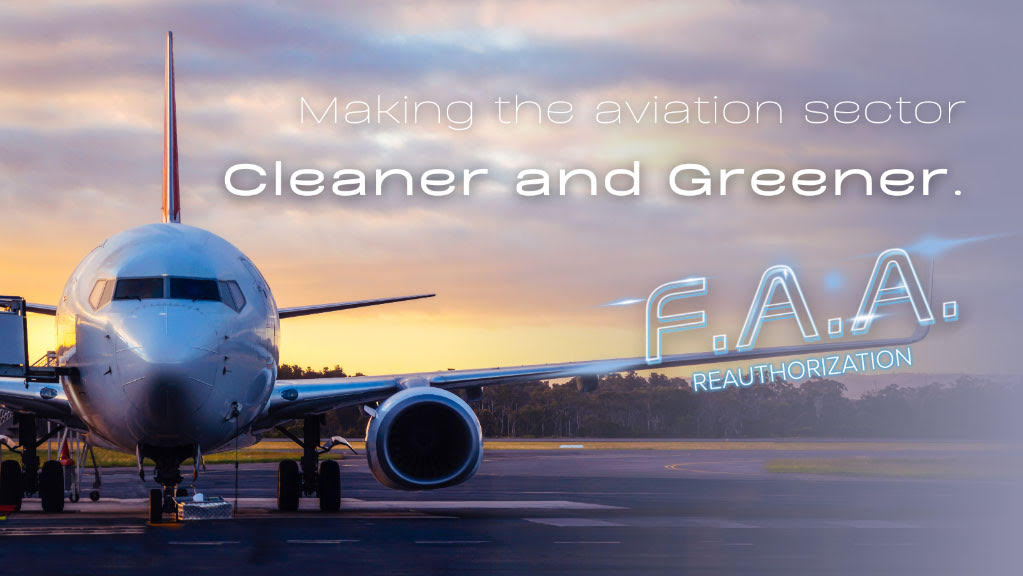 Specifically, the bill:
Expands how Airport Improvement Program (AIP) funding can be deployed and increases funding from $3.35 billion to $4 billion per year;
Allows airports to use existing AIP funding for hydrogen and unleaded fuel infrastructure;
Allows airports to use AIP funding for airport environmental resiliency projects;
Creates a minimum level of funding of $150 million per year for airport noise and environmental programs within the AIP program;
Expands the FAA's Voluntary Airport Low Emission (VALE) program to all commercial airports and streamlines eligibility requirements to help improve airport air quality;
Reauthorizes the environmental mitigation pilot program to reduce or mitigate aviation impacts on noise, air quality, or water quality; and
Requires the FAA to develop a plan to ensure general aviation aircraft can transition away from leaded fuels by 2030.
Hear from Witnesses on Making U.S. Aviation Soar
Committee Hearings
7 Questions
7 Questions with Advocate Lee Page
| | |
| --- | --- |
| | Disability Advocate Lee Page shared his top priority for the FAA reauthorization bill: accessibility. The 2023 FAA reauthorization incorporates several key provisions to improve the flying experience for passengers with disabilities. Specifically, it directs the Department of Transportation to evaluate how frequently airlines damage mobility devices and develop a roadmap for accommodating wheelchairs in the main cabin. Hear more from Lee Page, including his favorite airport to fly out of. |
7 Questions with NATA President Castagna
| | |
| --- | --- |
| | What helps general aviation achieve its goal of moving people and goods? According to National Air Transportation Association President Curt Castagna, a "diverse and sustainable workforce." Good news: the Securing Growth and Responsible Leadership in American Aviation Act protects and enhances the aviation workforce by tripling funding for existing workforce programs, including dedicating 20% of this funding to grants in economically disadvantaged communities. Hear how NATA President Castagna responded to our other six questions. |
7 Questions with Chair Homendy
| | |
| --- | --- |
| | National Transportation Safety Board (NTSB) Chair Jennifer Homendy's top priority for FAA Reauthorization? Reauthorizing the NTSB, of course. The bipartisan FAA reauthorization does just that. The bill also implements an NTSB recommendation to expand airport ground surveillance to prevent possible runway incursions and maintains America's gold standard in aviation safety. Listen to how Chair Homendy answered our other 6 questions. |
7 Questions with AAM Expert Clint Harper
| | |
| --- | --- |
| | Clint Harper knows a thing or two about advanced air mobility (AAM) and he shared his expertise with the committee earlier this year. His top priority for FAA reauthorization? Involving communities in the proliferation of AAM. The bipartisan FAA reauthorization bill does just that: it extends the program that helps state and local governments plan for AAM deployment, ensuring that communities big and small implement this technology. |