August 04, 2021
ICYMI: During CNN Interviews, Chair DeFazio Underscores the Importance of Transformational Infrastructure Policies: Bill Must "Actually Begin to Deal with Current Problems"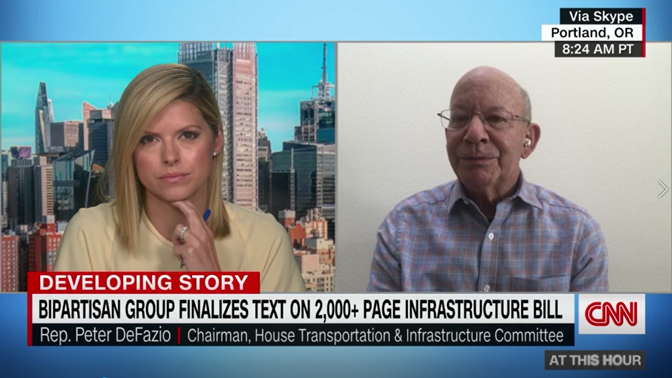 Chair DeFazio joins CNN's Kate Bolduan to discuss making transformational investments in America's infrastructure
WASHINGTON, DC— This week, Chair of the House Committee on Transportation and Infrastructure Peter DeFazio (D-OR) joined CNN's Jessica Dean on CNN Newsroom and Kate Bolduan on At This Hour to discuss the need for Congress to include transformational investments and policies in any infrastructure legislation that gets sent to the president's desk.
During his interviews, Chair DeFazio emphasized how his bill—the INVEST in America Act, which passed the House last month—would create good-paying jobs, tackle the climate crisis head on, invest in American manufacturing and ingenuity, and move our country out of the Eisenhower era and into the 21st century and beyond with transformational policies.
"I set out for several major objectives to rebuild America's crumbling infrastructure, bring us into the 21st century, not do another iteration of the Eisenhower national highway program, but to actually begin to deal with current problems," Chair DeFazio told CNN's Jessica Dean. "I set out to deal with both climate change—that is reduce fossil fuel consumption in transportation, the largest single source [of carbon pollution in the U.S.], to rebuild the system, to rebuild it resilient with materials that last longer, rebuild it resilient to sea level rise, severe weather events…and in doing that create millions of jobs, and I also added in a program for social equity, which the president wants to deal with areas that were split asunder during the highway building boom of the '60s and '70s."
Chair DeFazio further underscored these points to CNN's Kate Bolduan: "If we're continuing mid-20th century policies, it would be a disservice to the American people. It would also be a disservice to the planet because we have to deal with fossil fuel pollution in transportation."
Watch Chair DeFazio's full interviews with Jessica Dean and Kate Bolduan here and here. Learn more about the INVEST in America Act here.
--30--
---
---
Next Article
Previous Article