January 11, 2023
ICYMI: In Interviews, Larsen Addresses FAA NOTAM System Outage and Flight Cancellations
"This is a major disruption to the traveling public"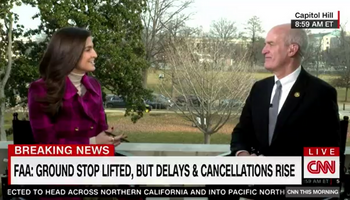 Ranking Member Larsen joins CNN's Kaitlan Collins to discuss preventing a future FAA system outage
Washington, D.C. — Today, Ranking Member of the House Committee on Transportation and Infrastructure, Rick Larsen (D-WA), joined Kaitlan Collins on CNN's This Morning and Hallie Jackson on MSNBC's Hallie Jackson Reports to address the disruption to the Federal Aviation Administration's (FAA) Notice to Air Missions (NOTAMs) system that resulted in thousands of grounded domestic flights earlier today.
During the interviews, Ranking Member Larsen stressed that the FAA was correct to shut down the airspace and ensure the safety of passengers and flight crews, but that the failure of the system and the need to shut it down negatively impacted the traveling public yet again.  
"This is a major disruption to the traveling public, the traveling public that did not deserve any sort of disruptions—especially after what happened over the holidays, what happened over the last summer as well—and now, one more major disruption to the traveling public's lives," Ranking Member Larsen said to Hallie Jackson. "But safety is most important."
When asked about aging FAA infrastructure by Kaitlan Collins, Ranking Member Larsen emphasized the major FAA bill expected this year, as an opportunity to invest: "We have an opportunity with the Federal Aviation Administration authorization bill coming up this year to examine this very question and hopefully, maybe, if we need to make some improvements, make some funding increases so that [FAA] can improve the system."
Watch Ranking Member Larsen's full interview with Kaitlan Collins and Hallie Jackson here and here. Read his full statement here.
--30--
---
---
Next Article
Previous Article